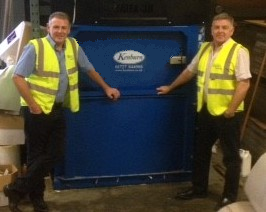 Kenburn Waste Management Ltd is one of the UK's leading suppliers of waste handling equipment and also the sole UK distributor for the Europress range of Balex Baling machines, including the Balex 30 Baler, all of which come with a unique 24 month parts and labour warranty.
A recent installation of a Europress Balex 30 baler was for Horne Brothers, a flooring contractor based in Sleaford, Lincolnshire. As a typical flooring company Horne Brothers generate large volumes of cardboard and polythene packaging waste.
The Balex 30 baler provided the ideal solution as it has two pressure settings one for cardboard and one for plastic wrapping. Due to its cross cylinder design the Balex 30 is less than two metres in height so fits neatly under racking.
Another advanced technical feature of the Balex range of balers is their smart remote technology which enables the baler to be accessed remotely to alter cycle times and pressure settings if necessary.
Two year Warranty
Cross cylinder design
Europress Smart technology
Two modes of operation – one for card and one for plastics
Meets EN16500 Safety Standard
For more information on the Europress range of Balex baling machines please contact Kenburn on 01727 844988 or visit www.kenburn.co.uk