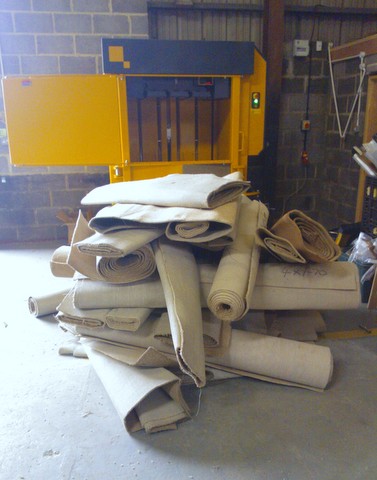 The X30 " carpet crusher " makes light work of large quantities of carpet offcuts. Whilst its small in size, it has a large capacity and delivers high press forces for fast, easy compression of carpets.
With its extremely wide load opening the X30 " carpet crusher " has the capacity to handle larger pieces of carpet. This makes the daily use much easier.
As members of Carpet Recycling UK, Kenburn visit flooring contractors and retailers throughout the UK offering free impartial advice on how best to recycle waste carpet.
Key features of the X30 " Carpet Crusher "
Easy to install and maintain
Very quiet operation
Extremely wide load opening
Spindle operated door for safe and simple unloading
Clinton Carpets in Retford benefits from their " carpet crusher "
As part of their commitment to zero waste to landfill, Retford based Clinton Carpets purchased a  " carpet crusher " following a visit to Flooring Show in Harrogate.  Owner Tony Brennan explains 'When I heard the statement, 'it costs less to recycle carpet than it does to send it to landfill' a deal was done to purchase a " carpet crusher ".
The nature of our business means we also generate large volumes of cardboard and plastic film waste as well and we use the carpet crusher to compact these waste streams in order to receive a revenue from a local recycling company'.
Here's what Carpet Craft Flooring in Redcar have said about their " carpet crusher "
Mark Lilleker, Carpet Craft Flooring's Managing Director 'When we visited the Kenburn stand at the Flooring Show at Harrogate we were intrigued by a large yellow carpet crushing machine.
It quickly became apparent when we talked to Kenburn that this machine would be ideal and reduce our skip costs which over the pas few years have risen dramatically.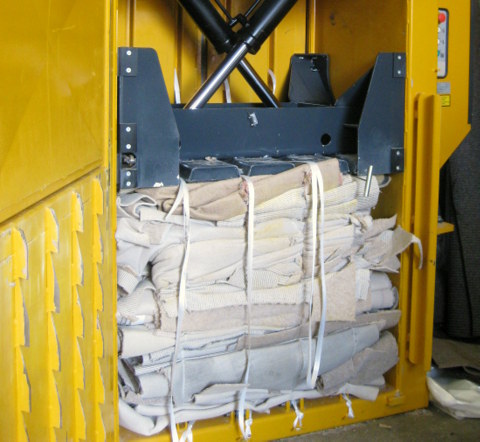 Kenburn informed us that with 30 tonnes of compaction force the " carpet crusher " would compact our carpet waste on a 4:1 compaction ratio and we were delighted to discover their claims were 100% accurate.
By using the " carpet crusher " all our waste polypropylene off cuts are recycled into equestrian flooring and all our old carpet waste mixed together with old underlay is converted into refuse derived fuel (RDF) and used to power concrete kilns.' Kenburn acts as the link between the flooring companies and recyclers to help customer find the most cost effective way to recycle underlay and waste carpet.
We work closely with Carpet Recycling UK and well as with "waste to energy" companies.  They use underlay and waste carpet to power concrete kilns, because these waste streams have a high calorific value.
 See the "carpet crusher" in action:
X30 Carpet Crusher Technical Data – click here
Technical Specification Summary
| | | |
| --- | --- | --- |
|  Model | | X30 "Carpet Crusher" |
|  Press force (t) | | 30 |
|  Power supply | | 3×230/400V 50Hz 25/16A |
|  Motor (kW) | | 4.0 |
|  Noise level (dB) | | 59-60 |
|  Cycle time (sec) | | 25 |
|  Dimensions WxDxH (mm) | | 1745 x 1260 x 2295 |
|  Weight (kg) | | 1710 |
|  Filling opening WxH (mm) | | 1090 x 655 |
|  Filling height (mm) | | 1130 |
|  Chamber height (mm) | | 1675 |
|  Stroke (mm) | | 940 |
|  Bale size WxDxH (mm) | | 1200 x 800 x 1000 |
| | | |
If you would like to know more about the X30 Carpet Crusher please contact us to discuss you requirements.