Manchester based B and H Mouldings are one of the UK's fastest growing plastic injection moulders.  They needed a solution for the large volumes of recyclable packaging waste they were generating at an alarming level.
B and H Mouldings MD, Barry Warburton commented "We've been fortunate enough to see our production increase rapidly over the past twelve months due to what we hope is an upturn in the economy.  The increase in our production capacity has also seen an increase in the packaging the raw materials delivered to our site.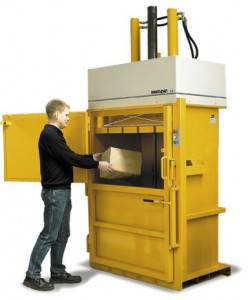 We generate large volumes of both polypropylene one tonne bulk bags and also 25kg polythene bags which we were putting into a recycling skip."
He added "initially the skip was being emptied once a month, but as production grew the skip required emptying once a week incorporating a £70.00 transportation cost.  One of our customers recommended Kenburn Waste Management so we invited them over to our site to conduct a brief waste analysis. They recommended we install two mid-sized Bramidan 4K baling machines, one for the polyprop bags the other for the polythene bags."
"What impressed us most about Kenburn was their no "hard sell".  They simply offered their advice and whether we chose to accept it was entirely up to B and H Mouldings. During the meeting we mentioned we'd taken advice before on a particular capital equipment purchase and that investment had proved costly for us so we were reluctant to outlay a relatively large sum of money without some re-assurance Kenburn's advice was right."
"Rent the machines for three months if you like" was Kenburn's response, which we agreed to immediately.
After only one month it became apparent these machines were absolutely perfect for us and we purchased both balers. Kenburn even arranged for a local recycler to collect the bales and pay us for them as well so we're now generating revenue for materials we previously had to pay to have taken away. The entire experience we've had with Kenburn has been an extremely enjoyable one and we'd not hesitate to recommend them to anybody."
If your company could benefit from some free of charge, no obligation and no hassle advice on a wide range of waste handling machinery and see what savings your company can make on waste handling costs, please contact the Kenburn sales team on 01727 844988, visit Kenburn at  kenburn.co.uk or email sales@kenburn.co.uk