Waste crime costs the UK around £560 million a year, with the majority of it being associated with waste from businesses, not from households. Waste crime usually falls into one of six categories: fly tipping, inaccurately described waste, illegal exports of waste, illegal burning of waste, illegal waste sites and massive breaches of permit conditions. In 2016 the head of the Environment Agency labelled it the "new narcotics" with over 1,000 illegal waste sites discovered. Waste crime not only harms the environment but also undermines investment in legitimate businesses. Enforcement efforts are in place to help tackle the problem, but as a business you have a duty of care and legal responsibility to produce, store, transport and dispose of waste compliantly, and to cut off the supply of waste to criminals — but what waste management solutions are available?
As a Business Owner or Operations Manager, you should be aware of any legal obligations and corporate social responsibility requirements. CSR is integrated into most business models and includes striving to have a low impact on the environment. Environmental initiatives focus on energy use, business travel and sustainable waste management. As the population is becoming increasingly aware of the damage done by waste — particularly plastic  — CSR initiatives — especially sustainable waste management — are ever more important.
From restaurants, solicitors or construction firms, sustainable waste management may come pretty low down the list of priorities for most SME owner, but aside from settling your conscience, if you improve the way you deal with resources, you can actually generate financial benefits for the business.
What is sustainable waste management?
'Sustainable waste management can be defined as using resources efficiently to cut down on the amount of waste produced, and where waste is generated, dealing with it in a way that actively contributes to the economic, social and environmental goals of sustainable development.'
All businesses produce waste; whether it's a few sheets of scrap paper to several skip loads a week. When deciding the most appropriate disposal method for your business, environmental and economic costs and benefits need to be considered. The most effective way to reduce your company's waste is to generate less in the first place. Waste prevention offers the greatest environmental benefits and cost savings, but it isn't always possible — for example, it's not completely feasible for restaurants or hotels to achieve zero-waste without changing key operational strategies or impinging on business. Other methods of moving the management of waste up the 'waste hierarchy' must be investigated.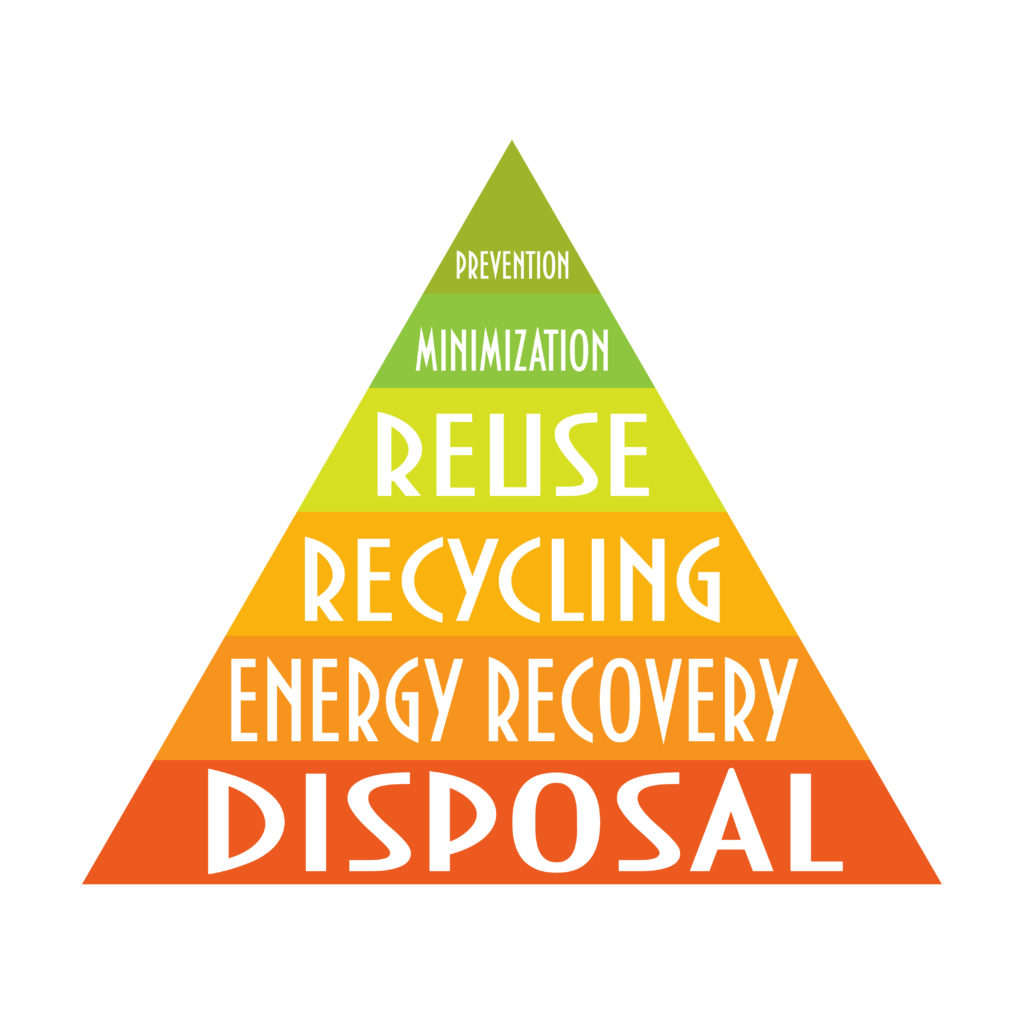 The 'waste hierarchy' ranks waste management options according to what is best for the environment. It gives top priority to preventing the waste production in the first place, with landfill and incineration without energy recovery as a last resort.
If disposing of waste is the only option available, it is essential that you partner with a reliable licensed organisation, such as Kenburn who provide efficient and cost-effective solutions, to remove the non-recyclable waste legally and compliantly.
Waste management solutions
A quarter of all the waste in England is generated by businesses. Whether you recycle or dispose of it, partnering with a waste management company is an easy, cost-effective solution to improve your company's waste process.
Many independent waste management companies combine non-recyclable waste disposal with recycling services; supplying balers and compactors, customer training, finance solutions and excellent customer service. Buying or renting a waste baler or compactor is a great way to move your business waste management up the 'waste hierarchy' and establish your duty of care to dispose of waste compliantly.
Waste balers are used for compacting recyclable waste — anything from cardboard to plastic and everything in-between. Balers transform waste into solid blocks of recyclable material, enabling recyclers to collect it easily and economically.
What can a waste baler do for your business?
Improve sustainability
Increase storage space by reducing the space required for waste
Reduce waste collection costs
Improve working conditions within the business
Increase efficiency by reducing the time spent on disposing of waste effectively
Any waste, such as low grade plastic or polythene, that cannot be compacted by a baler and recycled must be disposed of responsibly — a waste compactor may be the solution your business needs.
Waste compactors play a key role in the efficiency of many waste disposal systems by helping business owners reduce the costs associated with waste removal.
What can a waste compactor do for your business?
A waste compactor is a practical investment for every business looking for a simple and compact way to get rid of waste.
Cut operational costs
Simple put, transporting and handling compact blocks of waste is cheaper, faster and requires less investment on labour too. A smaller volume of waste reduces the number of collections required, which in turn reduces the amount of money spent on waste removal.
Improve workplace safety
Bins and inappropriate disposal of waste material can be a threat to employees' health and safety. Compacted waste reduces the risk of contamination, improves sanitation, decreases the likelihood of pests and odors, and lessens the risk of injury.
Save space
Compacting waste and storing it more effectively frees up space for more productive uses.
Save time
Having a waste compactor reduces the time spent on disposing of waste effectively.
Consumers and the general public are now more than ever demanding that businesses operate in a more environmentally friendly manner. Using a compactor or baler and understanding the importance of your duty of care places a business at the forefront in combating global environmental issues.
You must keep waste to a minimum by doing everything you reasonably can to prevent, reuse, recycle or recover waste, and sort and store any non-reusable and recyclable waste safely and securely.