A Bergmann roto compactor and Bramidan mill size baler are seen here leaving our workshops in St Albans ready for delivery to our customer's site. The roto compactor and baler have been fully refurbished in our workshops by Kenburn's team of engineers.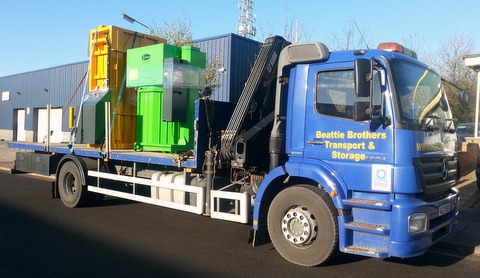 One of the earliest waste handling machines, roto compactors are designed to greatly reduce waste volumes. Bergmann's Roto Compactor is the market benchmark for this type of machine and is as relevant today as it's ever been.
Since their introduction, the Bergmann Roto Compactor has proven itself as a highly effective, money saving compactor for the treatment of a wide variety of waste streams in confined spaces.
Roto Compactors are available in square or round format.  Some models compact waste materials into bags and others compact waste into wheeled bins.
The Bergmann roto compactor in action: 
Bramidan Vertical Balers are suitable for most demands for waste handling. The Bramidan 4-0S(50) seen here is a heavy duty machine with low overall height and equipped with cross cylinders for very stable compression. Suitable for a wide range of materials including plastics, these machines produce dense bales and operate with a low noise level. This Mill Size Baler can bale substantial volumes quickly and efficiently and makes waste management easy. 
Kenburn supplies a wide range of new and refurbished waste compactors  and balers.  Contact us to arrange a 'no obligation', free site survey and let us help you with reducing your waste disposal costs.