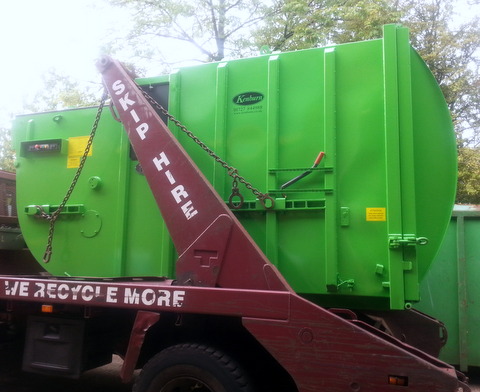 A Bergmann MPB wet waste compactor is seen here leaving our workshops in St Albans ready for delivery to a customer site. The MPB has been fully refurbished in our workshops by Kenburn's team of experienced engineers.
The MPB wet waste compactor, designed and manufactured in Germany by Bergmann, is an ideal machine for compacting a range of waste materials, especially if they have a high moisture content. Bergmann's Wet Waste Compactors are fully sealed, including the doors, minimising odours and eliminating seepage.
When the Compactor is full, which is indicated by a warning light, the MPB is simply taken away for emptying.
For this range of skip lift models, the container capacity ranges from 6-14m³.  One of our most popular Wet Waste machines in this range is the Bergmann MPB 405 SN/10, which is pictured here.
Bergmann MPB 405 Wet Waste Compactor Technical Data – click here
We supply a range of new and refurbished compactors.  Let us help you with your waste disposal.  Contact us now to arrange a 'no obligation' free site survey.