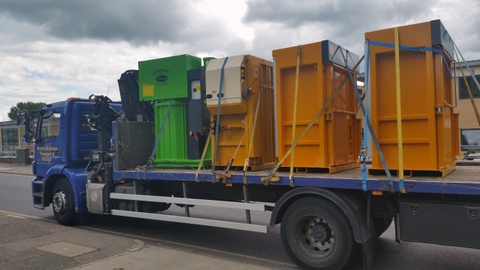 Kenburn has been helping businesses throughout the country to reduce waste management costs since 1987.
Seen here, are three waste balers and a Bergmann roto compactor leaving Kenburn for delivery to customer sites in the North West.
We offer free site surveys anywhere in mainland UK, so please talk to us and see how much money we can help you save on your waste handling costs.  We will be happy to help you select the right waste machinery for your business from our extensive range of new and re-furbished balers and waste compactors.
If you're looking to buy or rent a waste baler or compactor that is built to last from a quality manufacturer, and would like skilled engineers to install and maintain your equipment, then please contact Kenburn today to discuss your waste handling requirements.
Call us now on 01727 844988 or email sales@kenburn.co.uk