A Kenburn customer in the South West of England is successfully reducing their waste costs, all thanks to the Balex Balers designed and manufactured by Europress. Pictured here are three Europress Balex balers being loaded ready for delivery.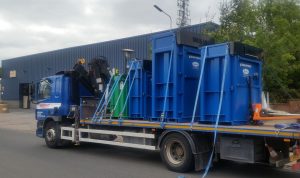 Once installed, the operator will be able to quickly switch the baler's mode of operation to one that's optimal for the waste material being baled, by simply turning a switch on the control panel.  This makes the machine ideal for producing bales of cardboard and plastics for example.
All machines in the Balex baler range have been superbly engineered and are built to last.  Europress have designed and built these Balex balers for a long life of typically 6 – 15 years, depending on maintenance, usage and the materials being baled.  In our opinion, almost any waste handling demand can be satisfied with this range.
Exclusive in the UK to Kenburn, these cross cylinder Balex balers are low in height and so are easy to position. They are robust, heavy duty machines and all are supplied with a Two Year parts and labour warranty.