When recycling cardboard, the initial solution which springs to mind is to install a baling machine.  Balers are available in a variety of sizes and produce bales varying in weight from 40kg to 750kg.
"Is there an alternative option available where a 'continual feed' method of loading is more beneficial than opening and closing a door then pressing a button to operate a compaction ram?"  Kenburn were recently asked this question by CMD in Rotherham.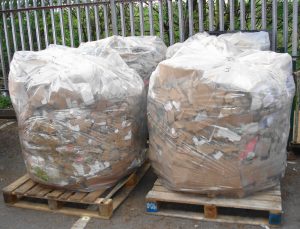 CMD who celebrate their 30th anniversary this year provides the technology to enhance workspaces with well-designed accessories and ergonomic solutions to 21st century technology challenges.  As a manufacturer, the majority of components they use are packaged in cardboard boxes.
Roger Byrne, CMD's head of engineering contacted Kenburn asking if there was any other solution for compacting cardboard other than baling it. Kenburn directed Roger to our website where a video shows a Bergmann Roto Compactor in operation compacting cardboard into an 1100 litre plastic bag.
After watching the Bergmann Roto Compactor in operation, Roger knew this solution was perfect for CMD, but he did however have a concern.
"Getting bales of cardboard collected is relatively straightforward" said Roger, "but what can we do with 500kg of cardboard which has been compacted into a plastic bag?"
Kenburn, as well as supplying new and used baling machines and waste compactors also work with a network of recycling agents all over the UK to ensure all our customers receive regular collections and premium revenues for their recyclable waste streams whether baled or compacted.
Roger Byrne commented "installing a Roto Compactor has made a huge difference to our production efficiencies in terms of how we now manage our large volumes of cardboard waste and we've been extremely impressed with not only the compactor itself but also the excellent service and advice we've received from Kenburn and with their help we now receive a weekly collection service and a revenue for our compacted cardboard comparable to baled."
Kenburn's sales team covers the entire UK mainland and our experienced team can visit your site and make recommendations which will not only improve the way your company handles its waste but also help to reduce a cost that only ever seems to go one direction.  Contact us on 01727 844988 or sales@kenburn.co.uk