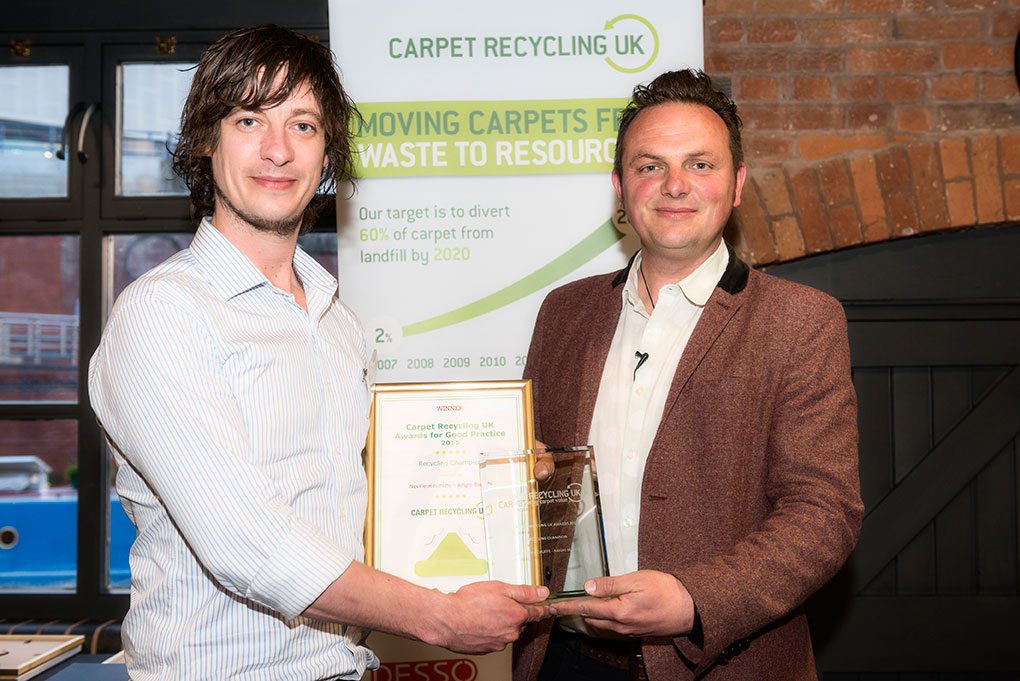 Kenburn's waste advice enables Arighi Bianchi achieve recycling award
At the recent Carpet Recycling UK annual conference held in Birmingham, the Macclesfield based Furniture and Flooring store Arighi Bianchi won the coveted award for "Recycling Champion 2015". This prestigious award is presented by CRUK in recognition of the ongoing commitment to recycle both new carpet off cuts as well as old post-consumer carpet as well using a carpet crusher from Kenburn.
Laurance Bird from CRUK comments "this year in particular showed an increase in the number of flooring companies who are now benefiting both environmentally and financially by recycling their carpet waste and subsequently the number of companies wishing to be considered as the UK's number one carpet recycler increased considerably compared to previous years."
"With the efforts and determination made by Arighi Bianchi to achieve a "zero waste to landfill" policy the decision for them to win the "Recycling Champion 2015" award was unanimous.
Arighi Bianchi's Neville Hinchliffe adds "we're delighted to be recognised as the country's leading carpet recycler and all our hard work and effort which went into achieving a "zero waste to landfill" policy has been extremely worthwhile."
"I'd also like to thank Kenburn for their help and advice in sourcing the "waste to energy" solution for our post-consumer carpet and underlay waste and by using a Kenburn "carpet crusher" these materials are now used as a fuel to power concrete kilns."
"In addition to achieving a "zero waste to landfill" policy we've also at the same time significantly reduced our ever increasing waste management costs, as recycling carpet waste actually costs less than sending it to landfill."
To find out more about how to save money on your skip costs and save the planet at the same time please contact Kenburn on 01727 844988.