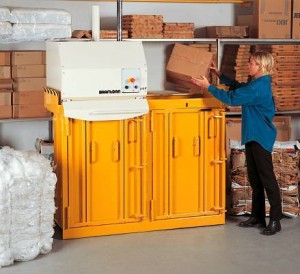 Pincroft, based in Chorley Lancashire were established in 1891, and is one of the largest, most modern, independent, commission textile dying, printing and finishing operations in Europe.
Pincroft asks for "the same again please"!
When the time came to replace their 2-0F Bramidan baler, Pincroft simply contacted Kenburn and placed an order for a replacement machine; the Bramidan MC4, which has now replaced the 2-0F twin chamber baler.
Upon checking our records it was found that the serial number showed that Pincroft's 2-0F baler was manufactured in 1998 and was now 16 years old!  Pincroft has been operating the machine since 2007, when they purchased the fully refurbished machine from Kenburn.  The long life of this machine is testament to both the build quality of Bramidan balers and the value of regular routine maintenance.
Graham Pilling, Pincroft's Engineering Manager was rather surprised at the age of the baler and commented "this relatively small baling machine is absolutely perfect for us, we put our polypropylene bags in one chamber and our polythene film in the other, then simply slide the compacting ram from side to side."
Graham added, "Our baler produces 50kg bales that are ideal for manual handling and we simply stack them and store them on pallets and then receive revenue from a local recycling company."
If you're looking to purchase or rent a quality baling machine that will last, and want skilled engineers to install and maintain your machinery, then please contact Kenburn Waste Management, who will be delighted to advise you on our new and re-furbished baling machines and waste compactor options.  We offer free site surveys anywhere in mainland UK and will work with you to identify which machine is right for your business and how you can save money.
Call us on 01727 844988, email sales@kenburn.co.uk or visit www.kenburn.co.uk