Pincroft, based in Chorley Lancashire and established in 1891, has one of the most modern bleaching, dyeing, printing and finishing facilities in the world.
They've recently invested over £20 million pounds in state of the art machinery and when the time came to replace their old waste compactor they had no hesitation in contacting the company who supplied them with their existing machine.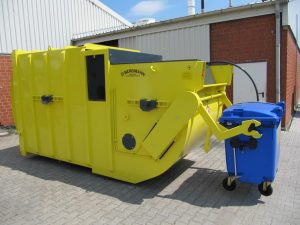 Neil Dowds, Pincroft's MD commented "we've been extremely impressed with not only the performance of the compactor we've had for many years but also the service Kenburn offer in terms of maintenance."
"The excellent service levels we've received from Kenburn have enabled our old compactor to perform reliably for as long as I can remember, but like with any capital equipment nothing lasts forever".
"Due to the relationship we've had with Kenburn, we didn't even bother talking to any other suppliers, Kenburn know us, know what we do and more importantly are aware of the volumes and types of waste streams we generate".
"They recommended the Bergmann MPB portable compactor with an integrated bin lift for our eighteen 1100 litre wheelie bins".
"Kenburn's suggestion that from a cleaning point of view this particular compactor is maintenance free due to it's unique self-cleaning pendulum packer blade has proven to be a huge benefit to the staff who operate the compactor and we've been delighted with the eight tonnes of waste the compactor holds when full, as we only require the compactor to be emptied once a week.
Kenburn Waste Management established in 1987 have a wealth of expertise in specifying the most effective waste handling machinery in terms of both financial viability and also to ensure the maximum amount of waste is recycled.
We can visit your site anywhere in mainland UK and offer free impartial advice to help your company save money.
To arrange a free of charge, no obligation waste audit to see what savings your company can make on waste handling costs, please contact the Kenburn sales team on 01727 844988, visit Kenburn at kenburn.co.uk or email sales@kenburn.co.uk