CRUK Member Oxbridge Flooring were faced with increasing skip disposal costs for their wastes, mainly carpet installation off-cuts. They were concerned that valuable raw materials were being lost in landfills.
They approached Carpet Recycling UK and their member Abingdon Flooring for advice on recycling and, according to Frank Harwood, were delighted with the advice given regarding the use of baling and reverse logistics to recover carpet offcuts.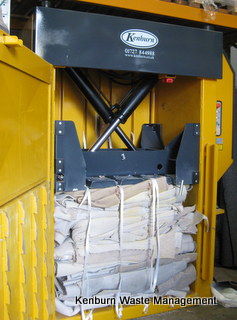 Frank then contacted Kenburn in nearby St Albans who are also members of CRUK. They offered a baling solution with a 30 tonne press force Bramidan X30 baler.
This type of baler is ideal for fitting into tight spaces as it has a low height. As pictured, this has fitted neatly into the warehouse racking at Oxbridge so that no valuable storage space is lost.
Oxbridge Flooring recycle carpet with a Kenburn baler
Carpet off-cuts are collected at plan cutting or from site and sorted by the fitters into "wool blend" or "polypropylene". Fitters keep the material dry and store it at Oxbridge each morning in designated stillages. Bales are wrapped to keep them dry and collected regularly by Abingdon Flooring when they deliver new materials. Recycling of the wool blends into carpet underlay completes the material reuse circle.
Frank Harwood says that the baler investment should pay back within 6 to 12 months. Oxbridge are using their enhanced green credentials with construction industry customers who are impressed by their dedication to recycling and material recovery.
To enquire about balers please contact Kenburn Waste Management on 01727 844988, info@kenburn.co.uk.