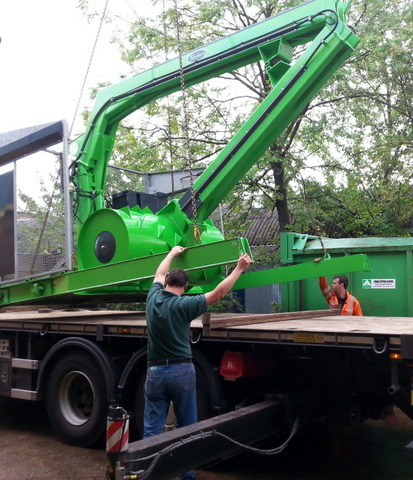 A Bergmann Jumbo Roll Packer is seen here being loaded onto a Hiab vehicle ready for delivery to a customer site. The Jumbo has been fully refurbished in our workshops in St Albans by our team of experienced engineers.
The Jumbo Roll Packer, designed and manufactured in Germany by Bergmann is an ideal machine for compacting a range of voluminous and bulky waste such as wooden pallets, window frames and furniture.
With compaction ratios of up to 6:1, this labour saving machine makes managing and reducing bulky waste easy.  Its specially constructed drum with teeth made from hardened steel tears up and compacts the waste, making it the perfect choice for reducing waste disposal costs.
Let us help you with your waste disposal.  Contact us now to arrange a free site survey.