Zeds Plastic Recycling based in Rotherham are one of the UK's fastest growing UPVC recyclers.  They recently contacted Kenburn with an enquiry about baling plastic window frames.  "Can you supply a vertical baler capable of baling UPVC double glazed window off cuts" asked Zeds MD, Naseer Ahmed.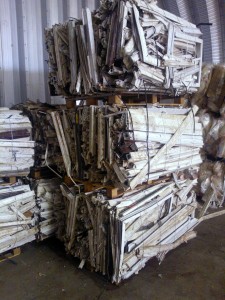 Kenburn supplied Zeds with a 4-0S(50) mill size baler manufactured in Denmark by Bramidan, who have been manufacturing waste handling machinery for over 40 years.  These balers are renowned for build quality and performance, and the Bramidan X-Series range are easy to use and have a compact design with a small footprint and low noise level.
Zed's Naseer Ahmed commented "we have been amazed and delighted with the performance of this particular baler, especially as it's worked constantly seven days a week producing on average 10/12 bales per day, each weighing on average 480kg.  As our volumes of material that require baling increases, it won't be too long before we contact Kenburn again to purchase another Bramidan 4-0s 50 baler".
Vertical balers are typically used to compact cardboard and soft plastics such as polythene film.  Hard plastics are an awkward material to handle and whilst extra safety measures and a regular maintenance program need to be put in place when baling them,  as Zeds Recyling have found, with care, they can be sucessfully used to bale UPVC windows.
Established in 1987 Kenburn Waste Management are one of the UK's market leaders in the supply and servicing of a wide range of superior baling machines and waste compactors.  One of our experienced sales team can visit your site anywhere in mainland UK and provide solutions which are guaranteed to improve the processing of your companies waste.