Kenburn will be exhibiting for the first time at this year's Flooring Show at the Harrogate International Centre, 21st to 23rd September, stand M12.  We will be exhibiting a carpet crusher – something never seen before at the Flooring Show.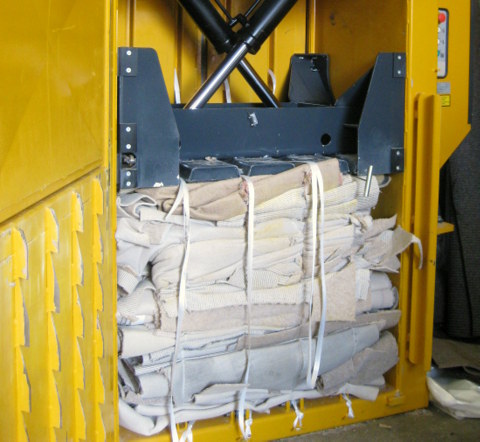 The " carpet crusher " has been developed with 30 tonnes of compaction force which has been found to be ideal for significantly reducing the volume of waste carpet. This unique machine compacts both new off cuts and post-consumer broadloom carpet and underlay for recycling.
Kenburn has teamed up with Carpet Recycling UK at this year's flooring exhibition to promote the financial and environmental benefits of recycling waste carpet. By renting or purchasing a "carpet crusher", transporting your carpet waste to the numerous carpet recyclers throughout the UK will be kept to a minimum.
With skip costs having increased by 200% over the past seven years, it no longer makes commercial sense to send waste carpet to landfill when the cost to recycle it, is in the majority of cases considerably less than burying it in the ground.
One of Kenburn's advisors can visit your premises anywhere in mainland UK to conduct a brief, free of charge waste survey to determine what savings you'll make by installing the simple to use "carpet crusher".
If you're not planning to attend this year's flooring show, but are interested in saving money and becoming more environmentally friendly at the same time, please contact Kenburn on 01727 844988, email us sales@kenburn.co.uk, or visit us www.kenburn.co.uk