With skip costs having increased by a staggering 200% over the past six years, Hertfordshire based Oxbridge Flooring decided to look at ways to reduce a cost that will only ever go one way!  The majority of the waste they generate is carpet installation off cuts and Oxbridge were concerned that valuable raw materials were ending up in landfill.
Oxbridge approached Carpet Recycling UK and their member Abingdon Flooring for advice on the recycling of their offcuts and according to Oxbridge's director Frank Harwood, they were delighted with the advice given regarding the use of a baling machine and reverse logistics to recover the carpet off cuts.
Frank then contacted Kenburn Waste Management in nearby St Albans who offered a baling machine solution with a Bramidan X30 baler, with a 30 tonne press force. This type of baler is ideal for fitting into tight spaces as it has a low height and has fitted neatly into the warehouse racking at Oxbridge so that no valuable storage space is lost.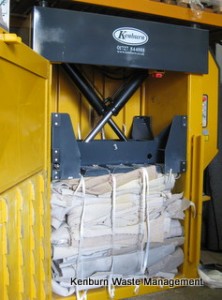 Carpet off cuts are collected at plan cutting or from site and sorted by the fitters into "wool blend" or "polypropylene". Oxbridge advise the fitters on fibre content and fitters keep the carpet dry to store at Oxbridge each morning in designated stillages. Fitters have readily accepted this new system and take great care to ensure that no contamination like underlay, gripper, blades or other materials go into the stillages.
Bales are wrapped to keep them dry and placed on pallets for ease of handling and storage. They are collected regularly by Abingdon Flooring when they deliver new materials. Recycling of the wool blends into new carpet underlay completes the material reuse circle, whilst polypropylene is recycled into plastic parts.
Over the first two months since installing the baler Oxbridge have collected and diverted from landfill more than 15 tonnes of carpet off cuts.
Frank Harwood says that the baler investment should pay back within 6 to 12 months, and with landfill tax rising again by 10% to £ 80 / tonne from April 2014 future savings will be even higher. Total disposal cost from April onwards based on skip usage in Hertfordshire will be more than £ 120 / tonne including landfill tax.
The re-use of valuable fibres from clean identified carpet off cuts is welcomed by the construction industry who are embracing the resource recovery principles. Oxbridge are using their enhanced green credentials and membership of Carpet Recycling UK with construction industry customers who are impressed by their dedication to recycling and material recovery.
Kenburn can visit retailers and flooring contractors anywhere in mainland UK to offer free impartial advice on handling a variety of waste streams including the best machine for the types and volume of waste for disposal. To arrange a free of charge no obligation waste audit please contact a member of Kenburn's sales team on 01727 844988.