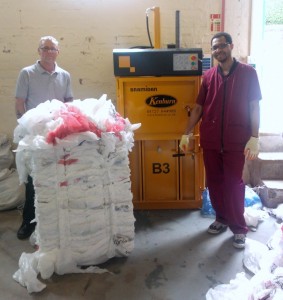 Kenburn Waste Management Ltd are delighted to have been awarded two separate NHS tender contracts for the supply of waste handling equipment to the Northern General Hospital in Sheffield and Kendray Hospital in Barnsley.
The Northern General Hospital is the largest hospital campus in Sheffield spanning 100 acres and employing more than 6000 staff.
The laundry at the hospital issued a tender notice for a solution for recycling the large volumes of polythene film they generate due to all the dirty laundry from the 1100 beds being wrapped in polythene bags and taken to the laundry for washing.
Kenburn specified a Bramidan B3 baling machine which produces small easy to handle 50kg bales which are taken out of the baler and transported using a small trolley.
Not only were Kenburn able to supply the ideal machine for the volumes of polythene bags generated they were also able to arrange for a local recycling company to collect the bales and pay the hospital a revenue for a material they were previously having to pay to have taken away along with their general waste.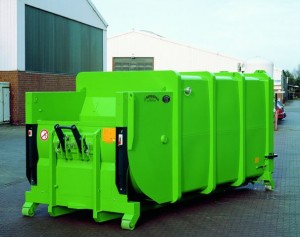 Kendray Hospital issued a detailed specification tender for their requirements for a 22 cubic metre portable compactor which was required to compact not only their general waste but also the wet food waste from the hospital kitchen so it was paramount that the compactor was completely water tight to prevent any leakages occurring when the compactor is lifted on to a roll on roll off vehicle. Kenburn specified what is undoubtedly one of the worlds best portable wet waste compactors, the Bergmann MPB 907 SN22 which has a unique self cleaning pendulum packer blade for ease of maintenance and also comes with an optional drainage plug to allow the compactor to be hosed down internally when emptied.
The MPB 907 SN22 also holds in excess of 8 tonnes of waste when full which means fewer collections are needed so transport costs are kept to a minimum.
Kenburn Waste Management can visit your site anywhere in mainland UK and provide no obligation free of charge advice on how best to reduce ever increasing waste management costs utilising a wide variety of waste handling machinery either new or used, purchase or rental.
Please contact the Kenburn Sales Team on 01727 844 988   www.kenburn.co.uk    sales@kenburn.co.uk