Cullingford Carpets based in Wincanton Somerset are one of the latest flooring companies to take delivery of a Kenburn " carpet crusher " for recycling their carpet and underlay waste.
Established in 1978 Cullingford carpets are a family run firm who pride themselves in providing exceptional customer service which includes the uplifting and disposal of their customers old carpet and underlay waste.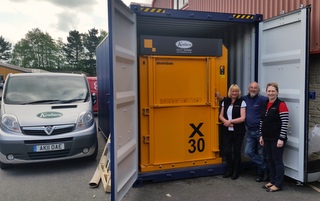 Cullingford Carpets director Stewart Cullingford comments, "due to the large volumes of flooring we install its inevitable that our fitters will uplift and dispose of hundreds of square metres of post-consumer carpet and underlay waste every week."
"Reducing our waste management costs was of course a consideration but our decision to install a "carpet crusher "was primarily to enable us to have a zero waste to landfill policy and diverting hundreds of tonnes a year of recyclable carpet and underlay waste from landfill makes environmental sense.  It's also an interesting topic discussing with customers how we recycle their old carpet using it as a fuel for "waste to energy" and with recycling waste carpet costing considerably less than landfill it makes financial sense as well.
Simon Wells from Kenburn adds "since the launch of the "carpet crusher" at the Flooring Show in Harrogate last year it's become apparent to us that the flooring industry in particular are extremely keen to divert their recyclable waste from landfill and in doing so reducing their ever increasing skip cots at the same time is an added bonus."
For more information and to find out how we can help you to save money and stop sending recyclable waste to landfill, call us on 01727 844988.