ACG member Clinton Carpets based in Retford Nottinghamshire recently purchased a Kenburn "carpet crusher" as part of their commitment towards a zero waste to landfill policy.
Clinton Carpets owner Tony Brennan explains "we visit the Flooring Show at Harrogate every year and each year there's a stand that catches your eye as being a little bit unusual."
"We noticed on the Kenburn stand a large yellow machine with a sign saying "carpet crusher", intrigued we went on the stand to find out more".  Kenburn informed us that this was their debut at the Flooring Show with the aim to promote the financial and environmental benefits of recycling waste carpet and underlay.
"When I heard the statement, "it costs less to recycle carpet than it does to send it to landfill" a deal was done to purchase a carpet crusher."
"Kenburn as well as working in partnership with Carpet Recycling UK also work closely with "waste to energy" companies who use waste carpet and underlay to power concrete kilns as these waste streams have a high calorific value and all the logistics for collecting the waste are arranged by Kenburn."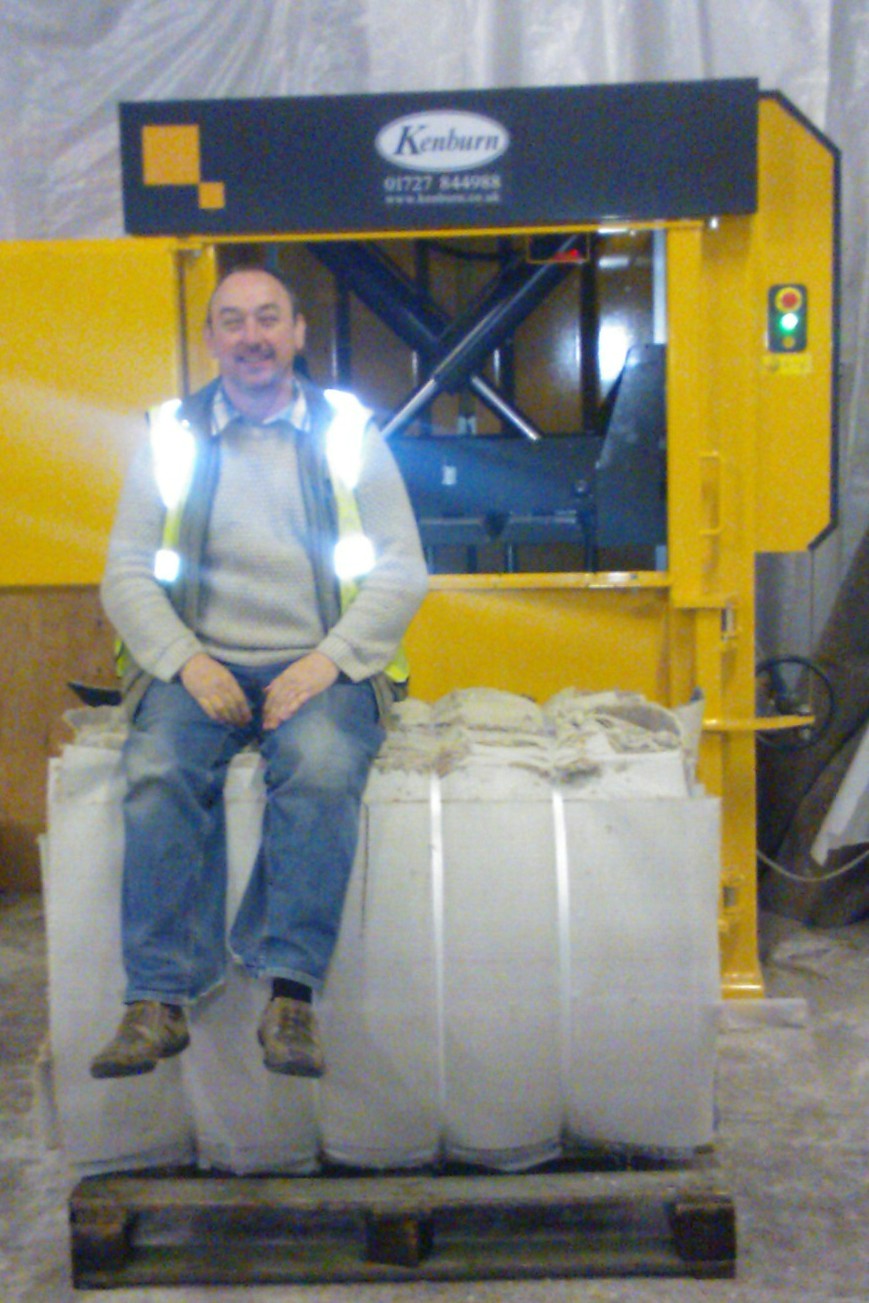 "The nature of our business means we also generate large volumes of cardboard and plastic film waste as well and we use the carpet crusher to compact these waste streams in order to receive a revenue from a local recycling company" said Tony.  He added "another added bonus of installing a "carpet crusher" has been the drastic reduction of our ever increasing skip costs."
Simon Wells from Kenburn comments, our debut at the Flooring Show was amazing and far exceeded our expectations in terms of sales and enquiries and we immediately booked a stand for this year so there will be "the return of the carpet crusher!"
"We can visit your site anywhere in mainland UK and advise you on the potential financial savings you're likely to make by purchasing or renting a Kenburn "carpet crusher" and at the same time diverting waste streams from landfill which can be easily recycled so it's a "win win" scenario.
Visit our website page for more information about how you can benefit from the "carpet crusher"
Telephone 01727 844988
email sales@kenburn.co.uk