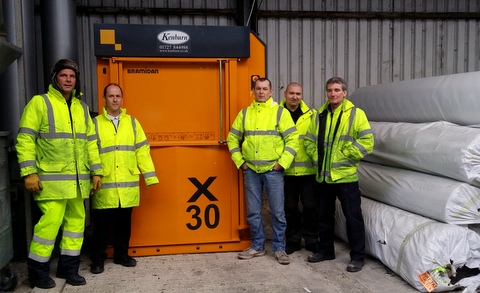 Genesis Patterns is one of the UK's largest sampling product producers and due to the nature of their business generate huge volumes of waste carpet off cuts every week.
As part of their existing environmental policy all their waste off cuts are sent to Anglo Recycling.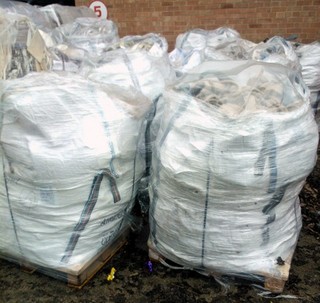 Genesis Patterns director John Foster comments "we recycle not only our carpet off cuts but also our plastic film and cardboard waste as well using the Kenburn " carpet crusher ".
We first saw this machine at the Flooring Show last year and saw how effective it was at compacting a variety of waste streams."
He adds "Before installing the "carpet crusher" we were putting all our off cuts into bulk bags and sending a curtain side vehicle from Genesis in Shipley to Anglo Recycling in Rochdale once a fortnight.
Now we're using the " carpet crusher " we only need to make a delivery to Anglo Recycling once every couple of months so we've reduced our transport costs by 75% and at the same time also reduced our carbon footprint as well. We've been delighted with the performance of the "carpet crusher" and also the excellent service we've received from Kenburn."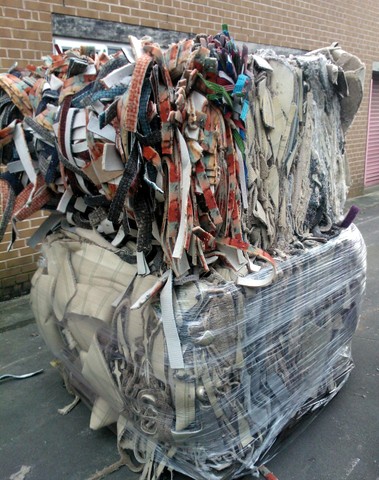 Simon Wells from Kenburn adds," Kenburn work in partnership with Carpet Recycling UK promoting the financial and environmental benefits of recycling waste carpet.
By using post-consumer carpet mixed with underlay as a fuel for waste to energy plants the costs of disposal are reduced by 30% compared to landfill so it not only makes financial sense to install a "carpet crusher" it also at the same time prevents recyclable waste streams from ending up in landfill.
We can visit your premises, and with a brief waste survey can establish what savings you're likely to make on a cost which only ever seems to go one way."
Visit our website page for more information about how you can benefit from the "carpet crusher"
Telephone 01727 844988
email sales@kenburn.co.uk