Kenburn were contacted by a large manufacturing company in Hemel Hempstead for advice on how they could reduce the mounds of cardboard and plastics that built up each week and was being thrown away into a skip at some expense.
Kenburn identified that a refurbished Bramidan baler was the ideal solution.  It's easy to use, robust and reliable and will allow them to easily segregate their waste streams for recycling.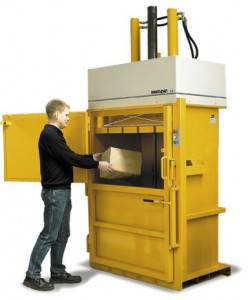 Martin, the Operations Manager commented "We were advised that we could use the machine for either plastics or cardboard and that we should have a holding area for each material. We have built two separate cage areas and now store either product into each cage, and produce bales according to how much we have of which product.  We then store the completed bales in another designated area and then have them collected for recycling."
Martin continued "Kenburn have offered extremely accurate advice, and have now helped us to provide our warehouse team with a clean and tidy workshop. The whole process from my initial enquiry to the installation was trouble free.  Thank you Kenburn."
"We are now considering a compaction unit which would again assist with the appearance in our rear yard area. As well as saving costs on the disposal of wooden pallets etc."
Kenburn has a National Service Team and can install, service and support all the supplied systems.  Kenburn can repair and maintain any make of baler or compactor and supply a full range of consumables.  Kenburn is the UK supplier of superbly built recycling machinery manufactured in Europe by Bramidan, Avermann and Bergmann.
Arrange a free of charge waste audit without obligation and see how much your company can save. Contact the Kenburn sales team on 01727 844988, visit us at kenburn.co.uk or email info@kenburn.co.uk