Seen here is a Europress Balex 20 baler being prepared at our site in St Albans for delivery to a customer in the Midlands.
They will soon be baling their waste cardboard and polythene with their new baler and depending on the waste stream, the operator will be able to change the baler's mode of operation to one that is optimal for the material being baled, with just a flick of a switch on the control panel.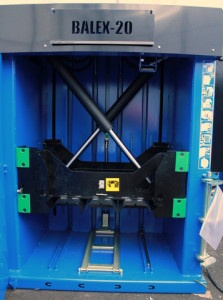 Europress is a highly regarded and innovative Finnish manufacturer with over 40 years experience of waste handling equipment throughout Scandinavia.  Their production facility and factory are ISO 14001 certified.
They design and manufacture the most modern, innovative and cost effective waste management machinery available on the market today.
The durable, strong build quality of the Balex baler was designed with safety in mind and meets the 2015 European EN 16500 Safety Standard, which prescribes high levels of safety for all new vertical balers.
Two year warranty on Balex Balers from Kenburn

Europress and Kenburn have such confidence in the excellent design and build quality of the Balex balers, that all machines in the range are supplied with a two year warranty as standard.
These balers are heavy duty machines, equipped with cross cylinders for very stable compression.  With a compact, low overall height, they are easy to locate in most environments and an excellent choice for a wide range of uses. Balex balers are highly efficient, robust machines.
Two year Warranty
Cross cylinder design with low overall height
Europress Smart technology
Two modes of operation – typically one for card and one for plastics
Meets EN16500 Safety Standard
Key operated as standard –allowing control of who can operate the baler
Turnbuckle closures – strong threaded spindle ensures a safe and steady opening of the main door
Very quiet in operation – just 59dB
For more information on the Europress range of Balex baling machines please contact Kenburn on 01727 844988 or visit www.kenburn.co.uk