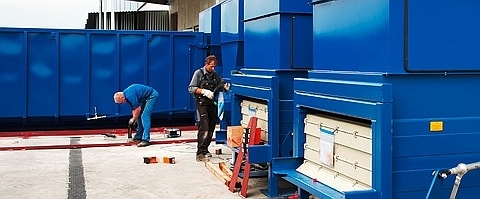 The success of any waste handling or facility management contract depends on your ability to offer value adding and reliable services to your customers at the best possible quality compared to the investment. The customer's needs vary and the right solution depends on several important factors.
Reliable and safe in use with low life cycle costs
Firstly, it should comply with the individual customer's needs and enable the customer to reach the relevant outcomes. Given the situation, it could result in better internal logistics, time saving procedures, lower collection costs and a satisfied staff. Furthermore, the baler must be reliable, user-friendly and not least safe to use.
It should also be of high quality, offer long life expectancy, low life cycle costs and be easy to integrate with a larger chain of services provided by yourself. Finally it should not present unnecessary expenses that affect your profit margins. This is especially important if it is part of a rental contract, where your customer is invoiced a fixed monthly fee for the equipment.
A supplier of proven quality products enables you to keep cost levels low and profits high. Reliable equipment that is easy to install and manage on-site keeps your work to a minimum. Turn it on and forget about it, while your customers handle their cardboard, plastic, paper and other recyclable materials with ease.
Cost efficiency and reliability
Bramidan balers provide a cost effective way to collect and handle waste. No matter which model you choose, you benefit from reliable operation, long lifetime expectancy and a steady source of income. By using Bramidan balers your customers gain a fast and efficient way of handling their waste, which enables them to spend their time on more important things.
One supplier for all your baler needs
Kenburn has one of the broadest product ranges available on the market and can supply solutions that meet virtually any of your needs. The balers themselves are renowned for being easy and safe to operate, and are among the most reliable and long living available.
We can help you analyse your requirements, so you can spend your energy and time on providing value-adding services to your customers.
Advantages to your Business:
Optimal price and quality ratio
Compliant with safety legislation
Enables long term relationships with clients
Facilities Management Brochure – click here
If you're looking to improve the efficiency of your handling of solid waste, talk to Kenburn to find the perfect waste solution to help you.
We have a wide range of balers for sale, to purchase and rent. If you want to know more about our range of Bramidan Balers  and Compactors, or what we can do for your business please contact us.