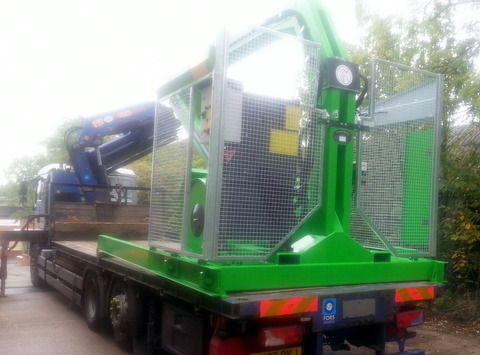 A brand new Bergmann Jumbo Roll Packer is seen here leaving Kenburn on its way to a customer in the North of England.  It's being installed for an existing customer who has been benefiting from the waste reduction capabilities of their jumbo roll packer for nearly 15 years.
This compactor is ideally suited to compacting a range of bulky waste materials such as furniture, pallets and window frames and is the perfect machine for reducing waste disposal costs and saving on labour.
The Jumbo Roll Packer is designed and manufactured  in Germany by Bergmann.  It's been copied by many, but in our opinion the Bergmann machines are still the original and the best.  With compaction ratios of up to 6:1, this labour saving compactor makes easy work of managing and reducing bulky waste.  The drum is constructed with teeth that are made from hardened steel that tear up and compacts the waste with ease.
See the Bergmann Jumbo Roll Packer in action:
Kenburn has over 25 years experience in selling Bergmann equipment, and as an official Bergmann dealer Kenburn can provide you with the advice and support you need to make the right decision for your business.
We can help you with your waste disposal.  Call us now to arrange a free site survey.