North Wales based B & W Builders and Decorators offer a wide range of services in the building, decorating, joinery and restoration fields.
Due to the nature of their business all the products they supply or install come wrapped in either cardboard or polythene packaging.
Following a waste audit from Kenburn Waste Management, B & W have recently installed a Bramidan B3 Baling machine to compact their cardboard and polythene packaging waste for recycling.
B & W's director Alex Wenger comments "as part of our existing environmental policy and our commitment to on-going improvements within our operations efficiency we wanted to ensure that none of the waste we generate ends up in landfill".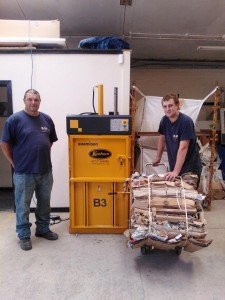 "This small easy to use machine has made an enormous difference to B & W and by simply compacting our cardboard and polythene film waste we've reduced our skip costs by 75% which will save us thousands of pounds a year in waste management costs."
Kenburn's help and advice in providing the ideal solution for our waste issues have been invaluable and we now receive revenue for recyclable waste we used to pay to have taken away!"
"It's a win - win scenario!"
Kenburn has a National Service Team, with the capacity to install and support all the supplied systems.  Additionally, Kenburn can repair and maintain any make of baler or compactor and supply a full range of consumables. They are also UK distributor for the Avermann and Bergmann ranges of waste handling equipment.
To arrange a free of charge no obligation waste audit to see what savings your company can make on skip costs please contact the Kenburn sales team on 01727 844988, visit Kenburn at kenburn.co.uk or emailinfo@kenburn.co.uk .